The landscape for music is changing—genre bending is in. And current artists teeter these lines effortlessly. I am enthused about the landscape of current music; it's a refreshing musical mashup in my longing ears. As I look at the line-up for this year's Red Bull Sound Select's 30 Days In Chicago November concert series, I see young artists, and specifically black artists, embracing a blank canvas, writing their own realities into blurred stanzas filled with unique notes. I look at artists like Daniel Caesar, Jacob Banks, 6lack, Smino and the Zero Fatigue crew, Pell, and Noname on the 30 Days In Chicago lineup, and I see a musical renaissance.
As someone who grew up in the church singing in the choir and playing blues guitar, I can appreciate the musicality of current young artists. I once felt suffocated within certain genre boundaries – often hiding away to listen to Nirvana, No Doubt, Steely Dan, B.B. King, Radiohead, and other alternative artists. I knew that I might be judged for listening to these artists in my neighborhood in Chicago where artists like Crucial Conflict, Twista and Do or Die blared and where Chicago footwork sprung out at neighborhood block parties. I saw strict genre lines often and hid some of my own creative expression out of fear of being ridiculed. I don't think young black artists feel this as strongly now. And rightfully so because our roots are embedded in pushing the boundaries – progressing the familiar frequencies
In the musical landscape, we need the Jimi Hendrix, the Chuck Berry, the Prince, and Michael Jackson of eras where genre is secondary to expressing an authentic personal sound. Recently, Chance The Rapper has been leading the way in showing mainstream audiences the complexity of identities within genre. Everyone knows that Chance The Rapper has bars—incredibly intricate, surprising, humorous, and awe-inspiring, jaw-dropping bars. However, there is so much intersectionality in his music that reaches beyond genre. This was seen in his most recent performance of "First World Problems" with Canadian singer, songwriter Daniel Caesar on the Late Show with Stephen Colbert; it's a performance that sparked criticism from fellow hip hop artist Joe Budden who criticized Chance The Rapper's musical persona.
Daniel Caesar is also on the bill for 30 Days In Chicago to perform at Reggie's Rock Club. He is joining a list of other young black artists who are challenging and widening the current music scene. Caesar is best known for songs "Japanese Denim" and "Get You" ft. Kali Uchis. In the video for "Get You", the young, dreaded Caesar performs in a white tank top with the look of a rapper while singing sultry, emotional melodies that harken back to Sam Cooke and Marvin Gaye. His live guitar playing show his musicality and pure artistry as displayed in his Soulection Live Sessions.
And who can forget the Tiny Desk Concert of Chicago's own Noname AKA Fatimah Nyeema Warner? She will be headlining at Concord Music Hall as part of the 30 Days In Chicago series. Not only is she genre bending—infusing jazz and soul into smooth hip hop riffs— but is breaking a mold of women in hip hop with her relaxed presence and lyrical style likened to poetic jazz scats. In addition to dropping her mixtape Telefone in 2016, she has worked with Chance The Rapper, Saba, Mick Jenkins and more. Is her music hip hop? Is it jazz? Is there a need to categorize, or do we just call it artistry?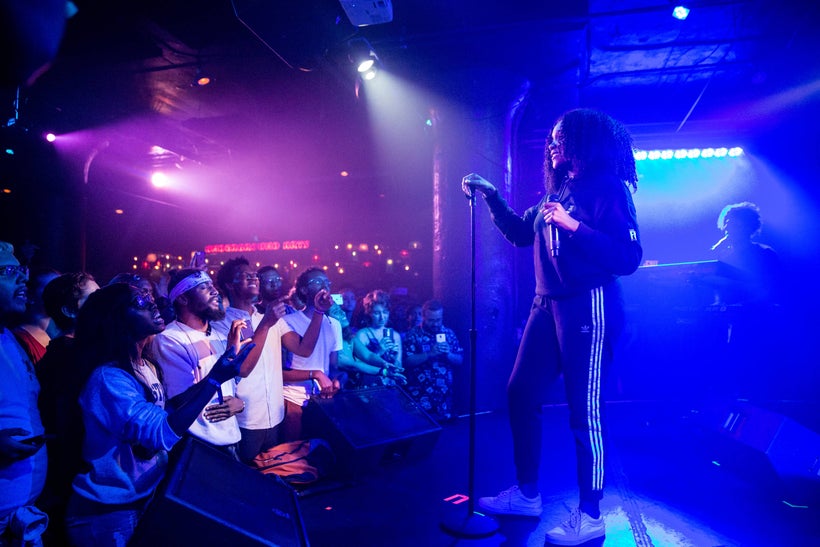 Singer, songwriter 6lack discusses creative expression and his yearn to stay authentic to himself as an artist in his 2016 album Free 6lack. 6lack, originally from Atlanta, Georgia, is also performing at Thalia Hall for the 30 Days In Chicago series. He spoke at length about his musical identity in his song "Alone/E6".
"I am not gon' conform. I am not settling for that sh*t. Cuz If I do it once, and it pop, I'ma have to keep doing that… You become a f*cking song instead of a person."
He further states on "Alone/E6:
"I want people to know what I stand for— I want people to personally know: this is 6lack and what he believes in."
6lack can be gritty like a trap rapper as seen on his song "Ex Calling" where in the video he is surrounded by money and exotic dancers in an urban setting. He can be an intimate, soulful storyteller as shown in his song "Free", leaning more toward rhythm and blues. He can be poetically engaging as heard on "Worst Luck", with stripped down instrumentals that highlight his narrative ability and vocals. He is multifaceted.
This year's Red Bull Sound Select Presents: 30 days In Chicago concert series is an incubator for creativity, displaying the plethora of colors making up a current vibrant musical pallete. It's an assorted pallete—one showing musical progression and renewal often found in musical revivals.
For more information on 30 Days in Chicago, starting Nov 1, 2017: